Exterior Painting in CT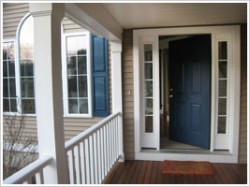 Every exterior painting project in Connecticut is different.
When starting an exterior painting project in Connecticut, we take the time to assess the surface and material to evaluate the necessary process for the best outcome. Prior to applying any coating, paint or stain, the surface will be cleaned, dry and free of dirt and mildew.
The right methods create long-lasting results.
When doing an exterior painting job on bare wood, we always prime the material prior to any topcoats. Primer is crucial for ensuring your wood will hold up against tough weather conditions and general wear and tear for as long as possible.
We'll treat your property as if it were our own.
Being aware of the area around your home is an important step in a painting project. We take care to protect plantings, lawns and unpainted surfaces so everything still looks as great as when we started the job.
Please contact us with any questions about exterior painting.
Bristol, CT Office: (860) 985-7596
Watertown, CT Office: (203) 704-0536