Interior Painting in CT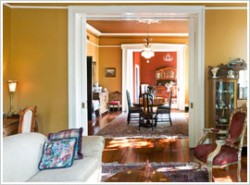 Proper preparation is essential.
Extra care is always used when moving your belongings and staging the area to be worked on. When doing the prep work for interior painting in CT, we ensure that areas are cleaned and arranged appropriately to avoid future problems and obtain the best possible outcome.
The right materials create the best results.
For each interior painting project in Connecticut we use high quality coatings. Because of the better quality of the products, they remain more durable and provide better coverage for a superior result.
Finishing touches are important.
Resetting all rooms and thoroughly cleaning our working area is a significant step in our process. Dust control is of the utmost importance and one of our main areas of focus to ensure the best quality upon completion.
Please contact us with any questions about interior painting .
Bristol, CT Office: (860) 985-7596
Watertown, CT Office: (203) 704-0536
Check out our Interior Painting gallery
More Interior Painting sevices: