Painting Contractor in CT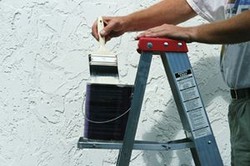 Connecticut's Leading Painting Contractor
Anyone can paint a house or get their house painted. However, there is more to exterior and interior house painting than just putting a coat of paint on a house.
As professional house painting contractors, we realize this, which is why we put every effort into providing our customers with an exceptional interior and exterior painting services. Everything from the initial phone call to the final walk around upon completion, we want to make sure that you are 100% satisfied with us.
We offer a number of services to help with home improvement, including high quality commercial and residential painting.
At Capstone Painting owners, the managers, and the house painters contractors all have one thing in common. Our company believes in excellent customer service, professional work ethics, and providing the best paint job on every house to the very last detail.
Why Choose Capstone Painting as your Painting Contractor:
Based Locally In Connecticut
Work one on one with each customer to provide them the paint job they want
Work around your schedule
Fully Licensed and Insured, LLC
Use of High Quality Paint and Materials
Employees are fully trained
References are available
Bristol, CT Office: (860) 985-7596
Watertown, CT Office: (203) 704-0536